EMT Training Classes in Washington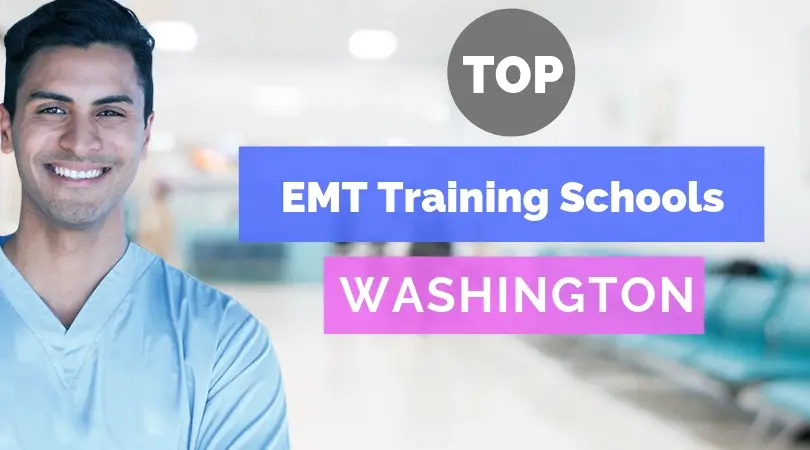 EMT training program in the state of Washington helps students to enhance their pre-hospital skills, which are to be practiced in the field. It is mandatory for all the prospective EMTs to qualify examinations, conducted by the National Registry of Emergency Medical Technician. After qualifying NREMT exams, a student becomes eligible for gaining Washington state EMT certification.
The article will give you detail information about requirements, coursework, levels and other aspects of the EMT training in Washington. So, keep on reading.
EMT Program Requirements and Eligibility in WA

No state can enrol a student until he/she fulfills the essential program requirements. Akin to other states, the state of Washington also maintains a set of requirements, which are to be fulfilled by the EMT aspirants. These are:
Age of 18 years or above is essential for enrolment.
Students must carry a valid driving license.
All the prospective EMTs are required to show proof of their GED or high school diploma.
The candidates should be able to read at tenth grade level.
It is mandatory for all the prospective EMTs to hold a valid CPR certification and maintain it throughout the program session.
The applicants have to undergo the following immunizations:

Measles
Hepatitis B
Rubella
Mumps

To get protection against pertussis, diphtheria, tetanus, and chickenpox, the candidates are required to undergo Tdap vaccination.
In order to become eligible, all the candidates have to go through a drug test.
They are asked to submit test results for a criminal background check.
The prospective EMTs should possess proficiency in reading, speaking, and writing the English language.
An aspirant may be asked to present placement results for verification.
How to Become an EMT in WA:  EMT Program Coursework
The coursework in every state is almost similar, but the levels of the program may differ. The students learn various emergency handling techniques in four different levels of EMT program in the state of Washington. These stages are:
First Responder or EMR (Emergency Medical Responder): A student is called the first responder when he/she is made aware of all the primary methods to assist patients, airway management, etc.
EMT-Basic: The second stage of the program, under which, a student is acquainted with basic life supporting (BLS) methods, including pressure ventilation, full spinal immobilization, oxygen administration, etc.
EMT- Intravenous or Therapy Technician: When a student successfully accomplishes EMT-basic program, he/she steps forward to EMT-Intravenous level, where he/she learns skills, like advanced shock management, bleeding control, emergency patient assessment, cardiac emergency managing techniques, etc.
Paramedic: Final stage of the program is the paramedic. At this stage, students are considered to be well aware of all the necessary skills, including ALS and BLS.
How much does it Cost to Become an EMT in WA

Every student desires to get time and cost-effective program in order to qualify for the EMT exam. These two are the most crucial aspects to be considered before joining any institute. In the state of Washington, the cost to avail coursework falls between $3,400 and $8,950.
How Long Does it Take to Become an EMT in Washington
In the same way, the length of the overall EMT program depends on the stages or levels of the training programs, which are:
EMT-B: Within 8-11 weeks, you can complete this program level.
EMT-I: It takes almost 30-350 hours of the instructive program.
EMT-P: To complete the last stage of program, one needs to undergo 6 months to 2 years of program.
State-Approved EMT Schools in Washington
Students usually search for a state-approved EMT school, which can offer an appropriate program. In Washington, there are various EMT schools which have been accredited. Here is a list of best EMT classes/schools in WA:
Central Washington University
Address: 400 East University Way, Ellensburg, Washington- 98926
Contact Number: 509-963-1111
Official Website: http://www.cwu.edu/
Skagit Valley College
Address: 2405 East College Way, Mount Vernon, Washington- 98273
Contact Number: 360-416-7600 / 877-385-5360
Official Website: http://www.skagit.edu/default.asp
North Seattle Community College
Address: 9600 College Way North, Seattle, Washington- 98103
Contact Number: 206-934-3600
Official Website: https://northseattle.edu/
Spokane Community College
Address: 1810 North Greene Street, Spokane, Washington- 99217-5399
Contact Number: 509-533-7000 / 1-800-248-5644
Official Website: http://www.scc.spokane.edu/
Bates Technical College
Address: 1101 South Yakima Avenue, Tacoma, Washington- 98405
Contact Number: 253.680.7000
Official Website: http://www.bates.ctc.edu/
Tacoma Community College
Address: 6501 South 19th Street, Tacoma, Washington- 98466
Contact Number: 253-566-5000
Official Website: http://www.tacomacc.edu/
Clark College
Address: 1933 Fort Vancouver Way, Vancouver, Washington- 98663
Contact Number: 360-699-6398
Official Website: http://www.clark.edu/
Walla Walla Community College
Address: 500 Tausick Way Walla Walla, Washington- 99362
Contact Number: 509-522-2500
Official Website: https://www.wwcc.edu/
Gallaudet University
Address: 800 Florida Avenue North East, Washington, DC- 20002
Contact Number: 202-651-5000
Official Website: http://www.gallaudet.edu/
Columbia Basin College
Address: 2600 North 20th Avenue, Pasco, Washington- 99301
Contact Number: 509-547-0511
Fax: 509-546-0401
Official Website: https://www.columbiabasin.edu/
Everett Community College
Address: 2000 Tower Street, Everett, Washington- 98201
Contact Number: 425-388-9100
Official Website: http://www.everettcc.edu/
Contact:
For more details, drop a line to-
Office of Emergency Medical Services and Trauma System
Address: P.O. Box- 47853, Olympia, Washington- 98504-7853
Contact Number: 360-236-2828
You Should Know: