EMT Training Programs in West Virginia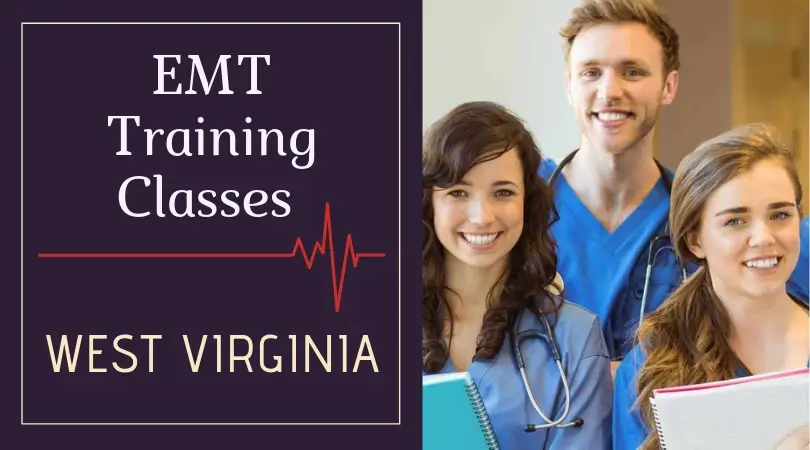 EMT training classes in the state of West Virginia provides an easy way to all the prospective EMTs to clear NREMT examinations and obtain state licensure. Like other states, the state of West Virginia also follows the examination, as well as certification procedures, laid down by the National Registry of Emergency Medical Technician.
All the prospective EMT students have to undergo eight different levels of the program, which helps them to master basic and advanced emergency handling methods and techniques.
Mandatory EMT Training Requirements in WV

A student, who wants to acquire state licensure, will surely undergo a proper training program. Here are some mandatory requirements to be fulfilled by a candidate before applying for enrolment in an EMT class in West Virginia:
The candidate should be of age 18 or above.
The prospective applicants must be able to show proof of their high school diploma or General Education Development.
It is essential to carry a valid driving license.
The students should possess the ability to read at the 10th-grade level.
The applicants have to carry a CPR certification. They are also required to maintain it throughout the program procedure.
All the prospective EMTs have to show proof of placement results.
The students have to face a drug test.
The test reports are to be submitted for a criminal background check.
All candidates must present evidence of vaccinations, like hepatitis B, measles, rubella and mumps.
The candidates must get a Tdap vaccination done against tetanus, diphtheria, chickenpox, and pertussis.
Strong mental and physical health is also essential for performing emergency activities.
Program Curriculum
What is taught to the students during EMT training classes? In West Virginia, students grab various essential techniques to be used as pre-hospital medical care in case of any urgency. These techniques can be:
Techniques to manage cardiac and respiratory emergencies
Methods of assistance during emergency parturition
Procedures to manage trauma
Methods to be used during gynecological and obstetrics emergencies
Procedures to manage shock
Methods to control excessive bleeding
Techniques to understand musculoskeletal emergencies
Manage head, spinal, and neck injuries
Advanced airway management
Managing IV fluids, etc.
To understand the above-mentioned techniques, students will have to undergo the following program levels:
First Responder: The initial level of a program, which teaches candidates about all the initial methods or pre-hospital medical care to be taken at the time of unexpected situations requiring instant action.
EMT-Mining (Specialty Certification): At this stage of the program, students are taught skills such as – how to take blood pressure, understand vital signs, how to communicate with the patient for maintaining medical status, and lift and move patients safely for medical care.  
EMT-Basic: The third level of program furnishes knowledge about basic methods and techniques, for instance – airway management, assistance during childbirth, etc for basic life support emergency.
EMT-Intermediate/99: EMT-I is the stage of the program, under which, a student learns about all the advanced techniques for advanced life support emergencies. 
EMT-Paramedic: The stage of the training program when a student is made familiar with the basic and advanced techniques.
EMT-Paramedic C-3 IFT (Inter-Facility Transport): The EMT-P C-3 IFT is a person responsible to monitor vital signs, take blood pressures, monitor patients, and administer various medications. This program level teaches you all these skills. 
Critical Care Transport-Paramedic: The seventh level of the program, at which, a prospective EMT learns various modes of flight physiology, transport, and transfer considerations, for example – ventilation management, patient packaging, etc. 
Critical Care Transport-Registered Nurse: This is the last level of the program. Under this program students get acquainted with critical care techniques at the time of transport.
These eight levels of program prepare a skilled and talented EMT.
Duration and Cost of Program Coursework

There are various program schools in West Virginia. You may get confused in selecting the best one. Well, keeping cost and time considerations in mind, you can easily choose the school which meets all the standards stated by the state.
In West Virginia, the students may have to spend almost $2,520 to $3,860 to successfully complete the EMT program.
The length of the program at different levels is as follows:
EMT-Mining: It usually requires 75 credit hours to complete this program level.
EMT-Basic: This stage requires 120 credit hours of the program.
EMT-Intermediate: It requires 100 credit hours of the program.
EMT-Paramedic: This level of the program requires 584 hours, including laboratory experience and online coursework.
Critical Care Transport: To practice this level of the program, one requires 350 hours of learning.
State-Approved EMT Schools in West Virginia
West Virginia has approved various program schools to make a bright career of the students, who want to pursue their career in EMS. These schools act as a base for developing their emergency handling skills. Here is the list of some accredited EMT schools in West Virginia.
New River Community and Technical College
Address: 221 George Street, Suite- 2, Beckley, West Virginia- 25801-2609
Contact Number: 304-929-5445
Fax: 304-929-5478
Official Website: http://www.newriver.edu/
Carver Career & Technical Center
Address: 4799 Midland Drive, Charleston, West Virginia- 25306
Contact Number: 304-348-1965
Fax: 304-348-1938
Official Website: http://www.carvercareercenter.edu/
Pierpont Community and Technical College
Address: 1201 Locust Avenue, Fairmont, West Virginia- 26554
Contact Number: 304-367-4892 / 1-800-641-5678
Official Website: http://www.pierpont.edu/
Mountwest Community and Technical College
Address: One Mountwest Way, Huntington, West Virginia- 25701
Contact Number: 304-710-3140 / 1-866-676-5533
Official Website: http://www.mctc.edu/
Kanawha Valley Community and Technical College
Address: 2001 Union Carbide Drive, S. Charleston, West Virginia- 25303
Contact Number: 304-205-6700
Official Website: http://www.kvctc.edu/
Blue Ridge Community and Technical College
Address: 13650 Apple Harvest Drive, Martinsburg, West Virginia- 25403
Contact Number: 304-260-4380
Official Website: http://www.blueridgectc.edu/
Southern West Virginia Community and Technical College
Address:  2900 Dempsey Branch Road, Mount Gay, West Virginia- 25637
Contact Number: 304-792-7098
Fax: 304-792-7028
Official Website: http://www.southernwv.edu/
West Virginia University
Address: P.O. Box- 6201, Morgantown, West Virginia- 26506
Contact Number: 304-293-0111
Official Website: http://www.wvu.edu/
Contact Information
For more details related to EMT training in WV, please contact –
West Virginia Office of Emergency Medical Services
Address: 350 Capitol Street, Room 425, Charleston, West Virginia- 25301-3714
Contact Number: 888-747-8367 / 304-558-3956
Fax: 304-558-3856 (WEOEMS)
Fax: 304-558-8379 (Certification Unit)
You should know –
EMT Certification in West Virginia
How much does an EMT make in West Virginia