EMT Training Classes in Wyoming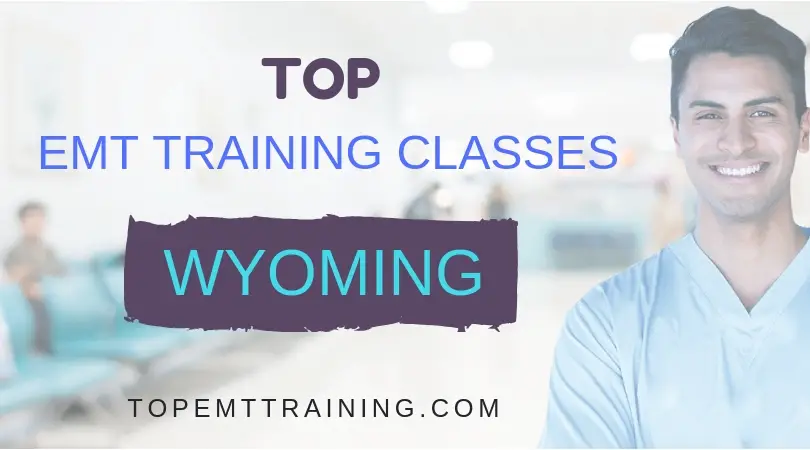 Students of the EMT program in Wyoming will receive training to provide life-saving services to the patients, who are suffering from various life-threatening traumas. In the program, students will be taught to deliver first-aid care to patients before they are rushed to the hospital. EMT training program in Wyoming is authorized under the Wyoming Office of Emergency Medical Services.
Eligibility Criteria

Students should complete the following requirements in order to apply for the EMT Classes in Wyoming:
A student, whose age is 18 years or older, can apply for the EMT training program in Wyoming.
A valid driving license is compulsory for every student.
EMT students need to maintain a CPR (Cardiopulmonary Resuscitation Certification) throughout their program.
Wyoming students must submit proof of high school or a tenth-grade level. Also, some EMT schools may ask for the placement marks of exams, such as COMPASS or ACCUPLACER.
Vaccination proofs for measles, diphtheria, mumps, tetanus, chickenpox, pertussis, rubella and hepatitis B must be submitted by the students.
A negative report of TB test, chest X-ray and a flu shot that has been done in the past 12 months is also mandatory to be provided by the students.
A drug examination, as well as a check on the criminal background of the student, is also a must.
Coursework
The three EMT program levels in Wyoming are:
EMT-Basic
EMT-Intermediate
EMT-Basic
Students will learn the basic skills of an Emergency Medical Services at this level of the program. The subject areas included are:
EMS Systems
How to lift and move patients?
Cardiac arrest and road accidents
Handling puncture wounds
Managing airway obstructions
Bone fractures
Proper delivery of oxygen
Suction devices
Emergency delivery
Students will also take part in field program where they will learn to handle various emergency situations.
EMT-Intermediate
This level of the program will provide students with an in-depth knowledge of whatever they have learned in the EMT-basic program. It includes topics, like:
Patient assessment
Management of airway
Pediatric management
Behavioral emergencies
Trauma management
Handling patients while transporting
A hands-on program is required to be completed after this, which are conducted either at a nearby hospital or in an ambulance service.
EMT-Paramedic

This is the highest level of EMT program, which teaches more advanced skills of medical care to the students. The subjects included in it are:
Advanced techniques of airway management & ventilation
Operation assessment
Keeping patient record
Trauma management
Gynecological and obstetric emergencies
Neonatal emergencies
Legal and ethical issues
A clinical internship should also be completed by the student at the end of the program. It will make him skilled at practically handling the patients.
Duration and Fees
The duration of the EMT-basic program in Wyoming is divided into 136 hours of classroom program, 24 hours of emergency practical, as well as 16 hours of ambulance program.
It will cost you around $10,000- $12,000 to pursue an EMT training in Wyoming.

State-Approved EMT Schools in WY
Laramie County Community College
Address: 1400 East College Drive, Cheyenne, Wyoming- 82007
Contact Number: 800-522-2993
Official Website: http://www.lccc.wy.edu/
Central Wyoming College
Address: 2660 Peck Avenue, Riverton, Wyoming- 82501
Contact Number: (307) 855-2000, (800) 735-8418
Official Website: http://www.cwc.edu/
Casper College
Address: 125 College Drive, Casper, Wyoming- 82601
Contact Number: 307-268-2100, 1-800-442-2963
Official Website: http://www.caspercollege.edu/
Contact
For any doubts or queries related to the EMT classes in Wyoming, contact on the following address and phone numbers.
Office of Emergency Medical Services
Hathaway Building 4th Floor
Cheyenne, Wyoming- 82002
Contact Number: (307) 777-7955

Also Read: